Scrutinising the Government's Estimates for Public Services spending is one of the important functions of Dáil Éireann and its select Committees.
On this page you will find information and analysis on the Estimates for Public Services and how Dáil Members scrutinise them. All the analysis produced by the PBO is independent and impartial.
Vote 40 - Department of Children, Equality, Disability, Integration and Youth
The Vote 40 gross allocation for 2021 has been increased to over €1.9 billion, up 4% (€82 million) on 2020's revised allocation and 5.8% (€110 million) on 2020's original allocation.
Find out more in this two-minute read.
We have gathered a selection of our publications that are relevant to understanding the Estimates for Public Services process and the problems Dáil Éireann encounters in carrying out its scrutiny duties. They may also be helpful in the upcoming scrutiny of the Revised Estimates for Public Services 2021.
See our data visualisation of May 2021 detailing the further revised estimate for social protection.
These publications relate directly to the Revised Estimates which Dáil Select Committees can expect to scrutinise between March and May this year. Most of them are short Notes with accompanying interactive data visualisations.
Enlarge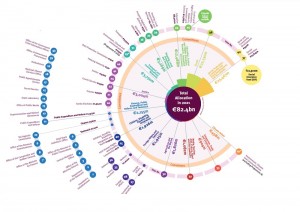 Dáil Select Committees and the Ministerial Vote Groups which they scrutinise 2021
The Committees of Dáil Éireann responsible for the scrutiny of Voted monies are shown in this infographic. Some Vote Groups are composed of several Votes while others have only one.
Demystifying scrutiny of the Revised Estimates for Public Services
See the slides to accompany the PBO's workshop for Members on 12 March 2021. The workshop will address the:
purpose of scrutinising the Revised Estimates
structure of a typical Vote and the changes made to it in the Revised Estimates 2021
general lines of inquiry
resources to use when scrutinising the Revised Estimates
How can we measure the effectiveness and efficiency of money spent on public services? These publications explain the concepts of performance budgeting.
Need guidance on how to read the Estimates? Want to know more about issues Members may face in carrying out effective scrutiny? See our how to guides.
The Revised Estimates Volume for the Public Service is published by Government in mid-December every year. It provides more detail on the financial allocations that were announced in the Budget along with performance targets and other information. The money set out in this document comprises most Government spending. Other Estimates may follow during the rest of the year as the need arises and these, too, must be scrutinised and approved by the Dáil.