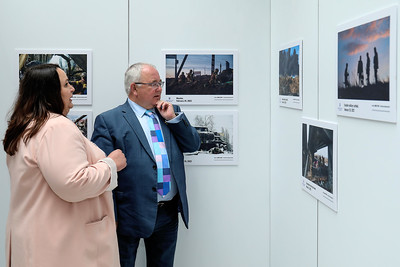 A photo exhibition entitled "Chronicles of the Russian invasion of Ukraine in 2022: the beginning" is on display in Leinster House 2000 this week.
The exhibition is by Ukrainian photojournalist Maks Levin, who was killed in March by Russian occupiers in the line of his professional duty.
The exhibition was opened yesterday by the Ambassador of Ukraine to Ireland, H.E Larysa Gerasko. The Ceann Comhairle, Seán Ó Fearghaíl T.D., agreed to host the exhibition following a visit to Ukraine in April. The visit was at the invitation of the Speaker of the Ukrainian Parliament, Mr Ruslan Stefanchuk.
The exhibition is on display in Leinster House until Monday, 18 July. The photographs can also be seen on the Houses of the Oireachtas flickr page.