Major conservation and restoration works are under way in Georgian Leinster House.
The Office of Public Works (OPW) is addressing structural and architectural issues in the 270 year old building to protect it and ensure it can continue to serve as home to the Houses of the Oireachtas. All Oireachtas business continues as usual, however guided tours are limited.
About the project
Construction on Leinster House began in 1745. It was designed by Richard Cassels, also known as Richard Castle, as the town house of James FitzGerald, the first Duke of Leinster. Over the years it has been extended and adapted to meet the needs of its various occupants, including the Royal Dublin Society and later the Houses of the Oireachtas. The wear and tear on the fabric of the 270 year old House, and the need to address it, has become evident.
As well as essential structural strengthening of the building, the works include rewiring Leinster House to modern standards and upgrading fire resistance measures. The historic windows, shutters, joinery and stone work all need repairs. The original entrance door to Leinster lawn will be reinstated and the existing portico demolished.
The footprint of the original House includes the Seanad Chamber and support areas, the Reading Room, the main lobby hall and corridor towards the Dáil stairwell, the Ceann Comhairle's Office, the Cathaoirleach's Office, the General Office and the Enquiries Office. The Dáil Chamber, the committee rooms and the Members' offices are not affected by the conservation works.
Restoring a 270 year old house of this scale is a complex undertaking. The planning phase has been long, but it was important to thoroughly investigate every aspect of it before swinging hammers. Various specialists have conducted surveys of the entire building to ensure the works can be conducted safely. Given the importance of the work that normally takes place in Leinster House, the works have been scheduled to minimise disruption to Members of the Oireachtas, staff and the public.
Leaflet
Download a short leaflet outlining the conservation and restoration works on historic Leinster House.
The Genius Loci of Leinster House
Watch architect Brian O'Connell's talk about the importance of parliament buildings as expressions of the democratic ideals of the societies that build them.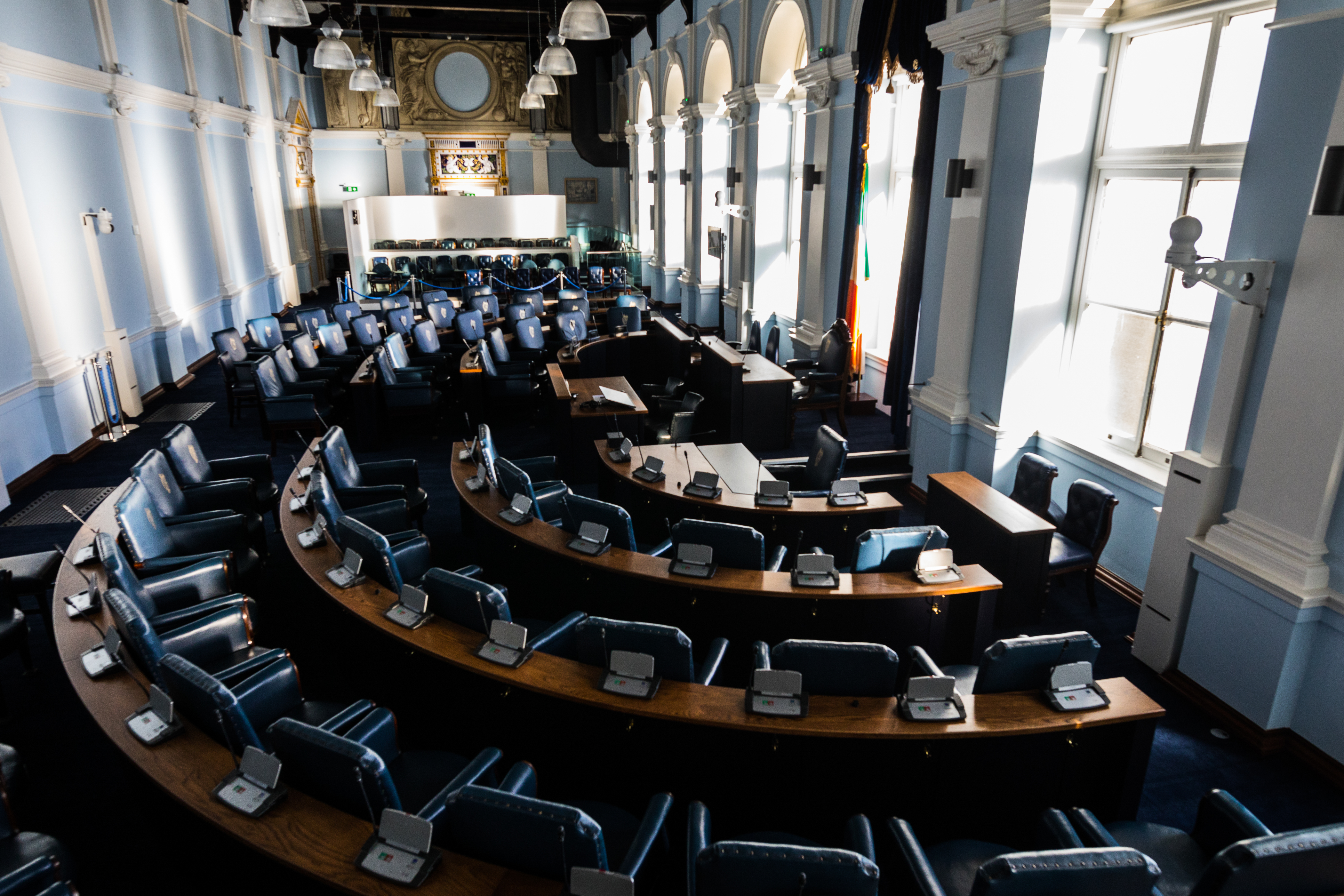 Seanad Chamber relocated to National Museum
Georgian Leinster House has been vacated, and the Seanad Chamber has been relocated temporarily to the ceramic room of the National Museum on Kildare Street. When Seanad Éireann was first established, in 1922, it was temporarily accommodated in the museum before moving to Leinster House. A steel door, previously concealed behind a partition, has been uncovered and put back into use to allow Senators and staff to move between the buildings.