The committee holds public hearings on areas related to the legislative powers of Seanad Éireann and public policy.
Seanad Public Consultation Committee invites submissions on small and medium sized business in Ireland
Submission guidelines
Before you make a submission to an Oireachtas committee, please read our guidelines document. It gives a brief overview of the purpose of submissions and the format you should use when you make a submission.
The committee has completed its public consultation on children's mental health services. This was the first time the Houses of the Oireachtas have invited in members of the public to voice their experience of mental health services in Ireland.
Press releases
25 Jun 2018, 14.37
Seanad Public Consultation Committee is seeking your views on fostering and sustaining the Irish SME sector
1 Dec 2017, 11.48
Seanad Public Consultation Committee to hold hearings on the National Anthem on Tuesday 5 December
Recent videos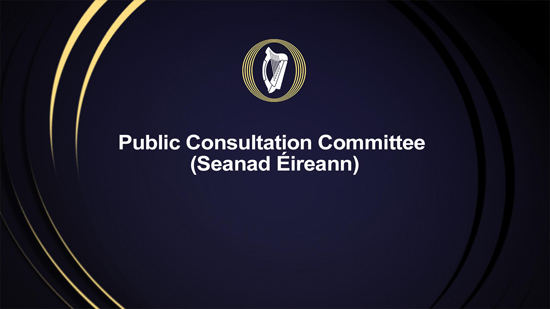 Tue, 5 Dec 2017
Seanad Public Consultation Committee
Public Consultation on the Status, Treatment and Use of the National Anthem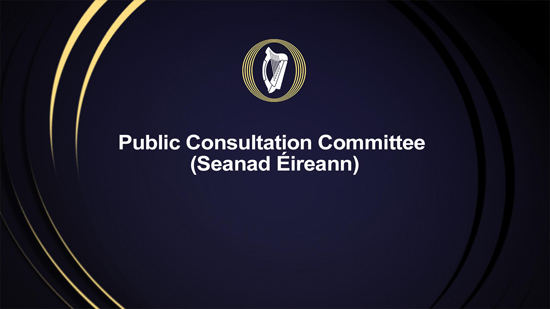 Thu, 6 Jul 2017
Seanad Public Consultation Committee
Agenda:Public Consultation on Children's Mental Health Services in Ireland
In attendance: Session A: 10 a.m. - Professional Bodies / Clinicians
Session B: 2 p.m. - State/Official Bodies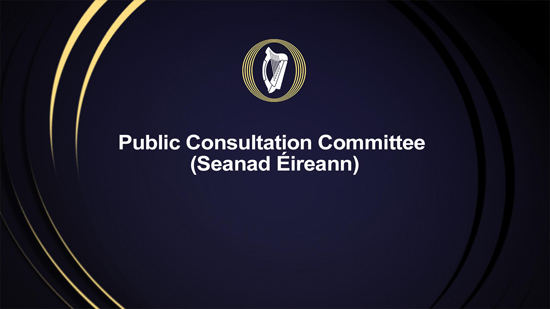 Thu, 29 Jun 2017
Seanad Public Consultation Committee
Public Consultation on Children's Mental Health Services in Ireland.
Session A: 10 am: User Experiences
Session B: 2 pm: Advocacy / Service Providers
Recent debates
Tue, 5 Dec 2017
Select Committee
Status, Treatment and Use of the National Anthem
Thu, 6 Jul 2017
Select Committee
Children's Mental Health Services: Discussion
Thu, 29 Jun 2017
Select Committee
Children's Mental Health Services: Discussion
Recent reports
Report on Children's Mental Health Services
Seanad Public Consultation Committee Report on Children's Mental Health Services
Report on Farm Safety
Seanad Public Consultation Committee Report on Farm Safety
Report on Ireland's Compliance with the International Covenant on Civil and Political Rights
Seanad Public Consultation Committee Report on Ireland's Compliance with the International Covenant on Civil and Political Rights with Observations and Recommendations to the United Nations Human Rights Committee and to the Irish Government
Recent documents
Tue, 5 Jun
Submissions, Various, Children's Mental Health
Fri, 13 Oct
Páipéar Comhairliúcháin Phoiblí, CCPS, Comhairliúchán maidir le stádas an roisc náisiúnta, maidir leis an gcaoi a gcaitear leis agus maidir lena úsáid
Fri, 6 Oct
Consultation on the Status, Treatment and Use of the National Anthem‌
Committee contact details
Seanad Public Consultation Committee:
Leinster House
Kildare Street
Dublin 2
D02 XR20