Dáil Éireann and Seanad Éireann are in recess
Dáil Éireann will resume on Tuesday, 15 September 2020 and Seanad Éireann will resume on Wednesday, 16 September 2020.

The Oireachtas TV channel continues to broadcast 24 hours a day – watch proceedings from the recent parliamentary term, plenary sittings of the European Parliament, documentaries and studio programmes.
There are 160 Members (called Deputies or TDs) of Dáil Éireann.
There are 60 Members (called Senators) in Seanad Éireann.
Get quick links to recent debates on the Covid-19 pandemic. Read the latest research by the Oireachtas Library & Research Service (L&RS) and Parliamentary Budget Office (PBO) on Covid-19.
Get the most out of our research services with our new data visualisations. Get research and analysis on the most relevant issues of the day including Covid-19 in Ireland, voted expenditure and the latest fiscal data.
All research is impartial and is published by the Oireachtas Library & Research Service (L&RS) and the Parliamentary Budget Office (PBO).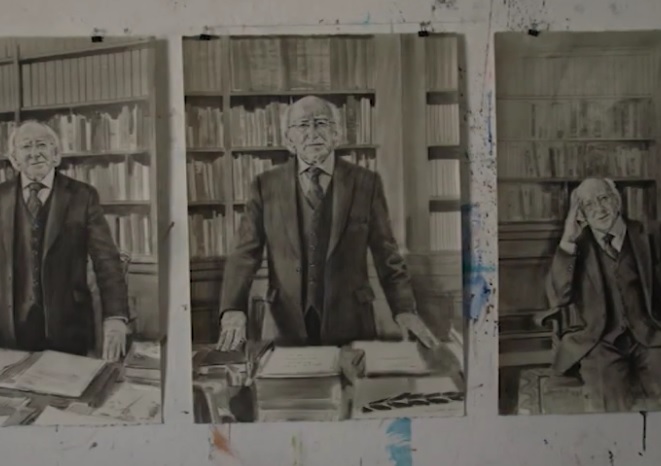 House of Art
This remarkable documentary explores of the portraits in the State Art Collection at Leinster House, presented by artist and then president of the Royal Hibernian Academy Mick O'Dea. O'Dea also gives a unique insight into his painting of the portrait of President Michael D. Higgins which hangs in Leinster House.
Press releases
12 Aug 2020, 11.01
Oireachtas Committee to discuss situation in Meat Processing Plants tomorrow
5 Aug 2020, 12.05
Covid-19 Committee report calls for changes to testing and contact tracing system to make it more robust
4 Aug 2020, 17.01
National Flag to fly at half-mast at Leinster House to honour 'true patriot' John Hume
31 Jul 2020, 14.48
Oireachtas Committee report calls for urgent action to protect nursing home residents in potential Covid-19 second wave
27 Jul 2020, 16.21
Ryanair and Aer Lingus before Oireachtas Special Committee on Covid-19 Response
Ireland is a parliamentary democracy. The National Parliament (Oireachtas) consists of the President and two Houses: Dáil Éireann (House of Representatives) and Seanad Éireann (the Senate) whose functions and powers derive from the Constitution of Ireland enacted by the people on 1 July 1937. The Houses of the Oireachtas are situated at Leinster House, Dublin.
Did you know?
The Royal Dublin Society bought Leinster House from the third Duke of Leinster in 1815 for £10,000 and a yearly rent of £600.
Recently considered Bills and Acts
31 Jul 2020
Before Seanad Éireann
Residential Tenancies and Valuation Bill 2020
No. 17 of 2020
30 Jul 2020
Before Dáil Éireann
Civil Law and Criminal Law (Miscellaneous Provisions) Bill 2020
No. 18 of 2020
30 Jul 2020
Before Seanad Éireann
Financial Provisions (Covid-19) (No. 2) Bill 2020
No. 19 of 2020
30 Jul 2020
Before Dáil Éireann
Companies (Miscellaneous Provisions) (Covid-19) Bill 2020
No. 15 of 2020
Subscribe to any of the options below and receive weekly and daily schedules from Dáil Éireann, Seanad Éireann and Committees, directly to your email.
Sorry, the site is experiencing some technical difficulties. Please try again.
To complete the subscription process, please click the link in the email we just sent you.
To unsubscribe at any time, simply click the unsubscribe link at the bottom of any email sent to you.